1493 S Higley Road
Gilbert, Arizona 85296
(480) 988-7334
Store Hours:
Monday-Saturday 10:00am-6:00pm
Sunday Closed
---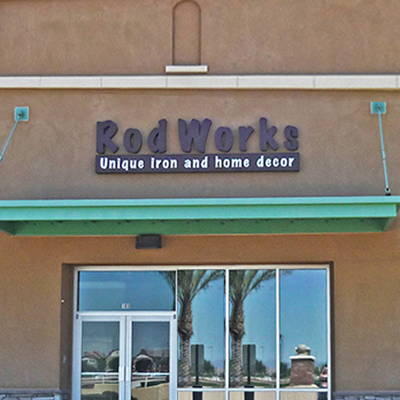 Opened June 13, 2011 by Eileen and Scott Salmon
Nine years ago I happened to walk into a Rod Works store in Utah. I immediately fell in love and new that this was exactly what was needed in the Town of Gilbert!! A year later we were cutting the ribbon on the first Rod Works store in Arizona!! We are so proud to be part of such a wonderful company, and to be able to serve the residents of the Town of Gilbert and the surrounding East Valley. We love our customers, many of who have been coming into our store for eight years! We love helping you make your houses into homes. Whenever you come into our store, you know you will be welcomed by smiling faces willing to help with any decorating needs you might have. We look forward to the next eight years and all the new friends we will make as we continue to offer outstanding customer service and quality products at reasonable prices!
---
At Rod Works we offer unique and charming Home Decor at incredible prices. The imaginative way we display our products will get your creativity flowing while our outstanding customer service will work with you one on one to create a one of a kind look for any room in your home. You will enjoy the inspiring beauty and top notch quality that is at the very foundation of our products.
Join our Rewards Program (*coming soon)
Follow us on Instagram @rodworks_arizona