4857 Thompson Parkway
Jonhstown, CO 80534
(970) 663-7555
Store Hours:
Monday-Saturday 10:00am-5:00pm
Closed Sunday
---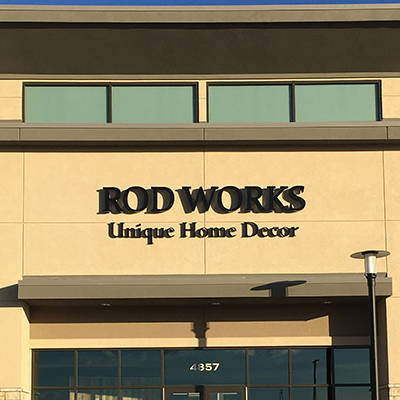 Opened December 11, 2017, by Heather and Rick Weight
We are so thankful for the opportunity to bring Rod Works to Johnstown, Colorado! Our family was looking to start a business that could be family owned and operated and one that would help to provide for our son with special needs. We never dreamed that we would find such a perfect fit! Rod Works has given us the opportunity to bring a unique store to a growing community, providing our area with one of a kind decor at budget friendly prices. While we are a franchise, Rod Works is unique in that we can bring in pieces that fit our local customers best. We love taking time to get to know everyone who comes through our doors and we welcome the opportunity to help each customer find pieces that fit both your style and your budget. Come visit us in the Johnstown Plaza! We would love to meet you!
---
If you're looking for a unique collection of decor at affordable prices, visit Rod Works in Johnstown. The moment you walk into our home decor store, you'll be inspired to create and decorate with pieces that are high-quality and beautiful. You'll be welcomed by friendly employees who will be happy to answer any questions or offer some tips to ensure you're home is exactly how you imagined it. We offer pieces that will work for any space in your home, both indoor and outdoor.
Join our Rewards Program (*coming soon)
Follow us on Instagram @rodworks_colorado