4275 Thanksgiving Way
Lehi, UT 84043
(801) 768-4178
Store Hours:
Monday-Saturday 11:00-6:00pm
Sunday Closed
---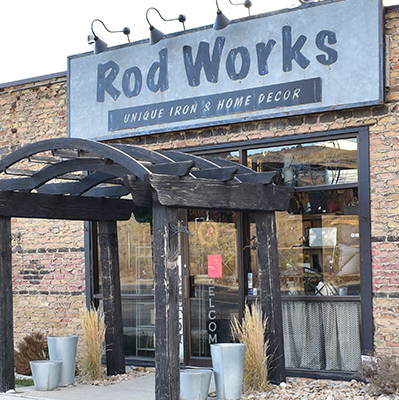 Opened October 3, 2003 by Mark and Kristen Tuttle.
The Lehi Store is so great! It was the first ever Rod Works retail location and is the flagship of all the other Rod Works retail locations. It is such a UNIQUE store. The personality and character of the building alone makes it so special. I have worked here for a very long time (almost since the beginning!) and have had the opportunity to watch this store and company grow. The owners and their families are such GREAT people! I Love Rod Works because it is a fun place to work, and to be completely honest... I have a little piece of my heart in it. I have met so many great people, employees and customers. We have had customers that have been coming to our location for years! From in town, to out of town/state. The Lehi store has such a "Homey feeling ". It is comfortable, welcoming , and friendly. I feel like customers love our store because it is different than other big box stores they may go to. Customers can walk into our store and receive great ideas, great customer service and great prices! They can Also find Items that are unique, that they can't get anywhere else.
Kathy Tripp, Store Manager
---
At Rod Works we offer unique and charming Home Decor at incredible prices. The imaginative way we display our products will get your creativity flowing while our outstanding customer service will work with you one on one to create a one of a kind look for any room in your home. You will enjoy the inspiring beauty and top notch quality that is at the very foundation of our products.
Join our Rewards Program (*coming soon)
Follow us on Instagram @rodworks_lehi